FERPA Training
All Iowa State employees are required to complete the online FERPA training and confidentiality agreement in order to access ISU student academic information systems. The FERPA training and confidentiality agreement process will take approximately 20 to 30 minutes and is completed by doing the following:
View a video tutorial.
Take a 20-question quiz.
Confirm the confidentiality agreement by answering yes/no.
If you are new to FERPA, check out FERPA: What Faculty and Staff Need to Know. Additional information is available at http://www.registrar.iastate.edu/policies.
To get started
Launch either your Firefox or Chrome browser.
Go to: Learn.iastate.edu
Click on the login button in the upper right corner.
On the tab at the top left of the screen select Course Catalog  and then scroll down to find Understanding FERPA under Registrar/Enrollment Services. Click on the Launch link to start the training video.
Please note: If the video doesn't launch properly, you may need to enable pop-ups. Also, make sure you have Flashplayer installed: https://helpx.adobe.com/flash-player.html.
You may also view the video portion of the training via YouTube: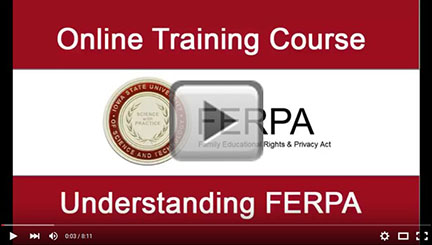 The Understanding FERPA video will take you through essential FERPA information for Iowa State University employees. Audio is available with this course. Once you've viewed the video, you will be asked to take the quiz. At the end of the quiz, you can review your answers and make changes if necessary.
When you are finished, choose Submit.
You will then Sign-Off.
Take the Post-Course Assessment for Understanding FERPA, and it will provide your score as well all the correct answers.
If you didn't score at least 80% (you can miss four questions), you can retake the test immediately.
Choose Yes to indicate you have finished training and click Submit.
Choose Survey to complete the Confidentiality Agreement. Note the software generates the title "Course Survey" for Iowa State's confidential agreement.
Answer all questions and choose Submit Survey to submit the confidential agreement.
* If you are unable to click on the next step in the training process, try going to My Menu, My Enrollments and look to the right for Action items or to Cancel out of your training (if you need to restart the training from the beginning tutorial).
If you have any issues with the training, please contact us at FERPA@iastate.edu.  All comments are welcome.